CLASSIC Complete Package
$1145 (Bundle saves $455)
Tailored to complement our CLASSIC unit, the Complete package offers the essential tools that accelerate your recovery, ensuring readiness for intense training sessions.
Features

10 Pressure Levels
A&B Modes
3 Time Settings
Position Isolation
Position Indicator
Quiet Session
At Home Compression Massager
Specs

CLASSIC Control Unit

Dimensions: 10 x 6.5 x 5 inches
Weight: 5.8 lbs

Boots Attachment

Weight: 4 – 5 lbs | 1.8 – 2.3 kgs (depending on size)

Hips Attachment

Weight:
Regular: 3.4 lbs | 1.5 kgs
Large: 3.6 lbs | 1.6 kgs

Arms Attachment

Weight: 2.6 – 5.6 lbs | 1.2 – 2.6 kgs (depending on size, single or pair)

Fabric

Interior Fabric: 100% TPU-coated nylon, 70 denier smooth finish
Exterior Fabric: 100% nylon, 210 denier with ripstop weave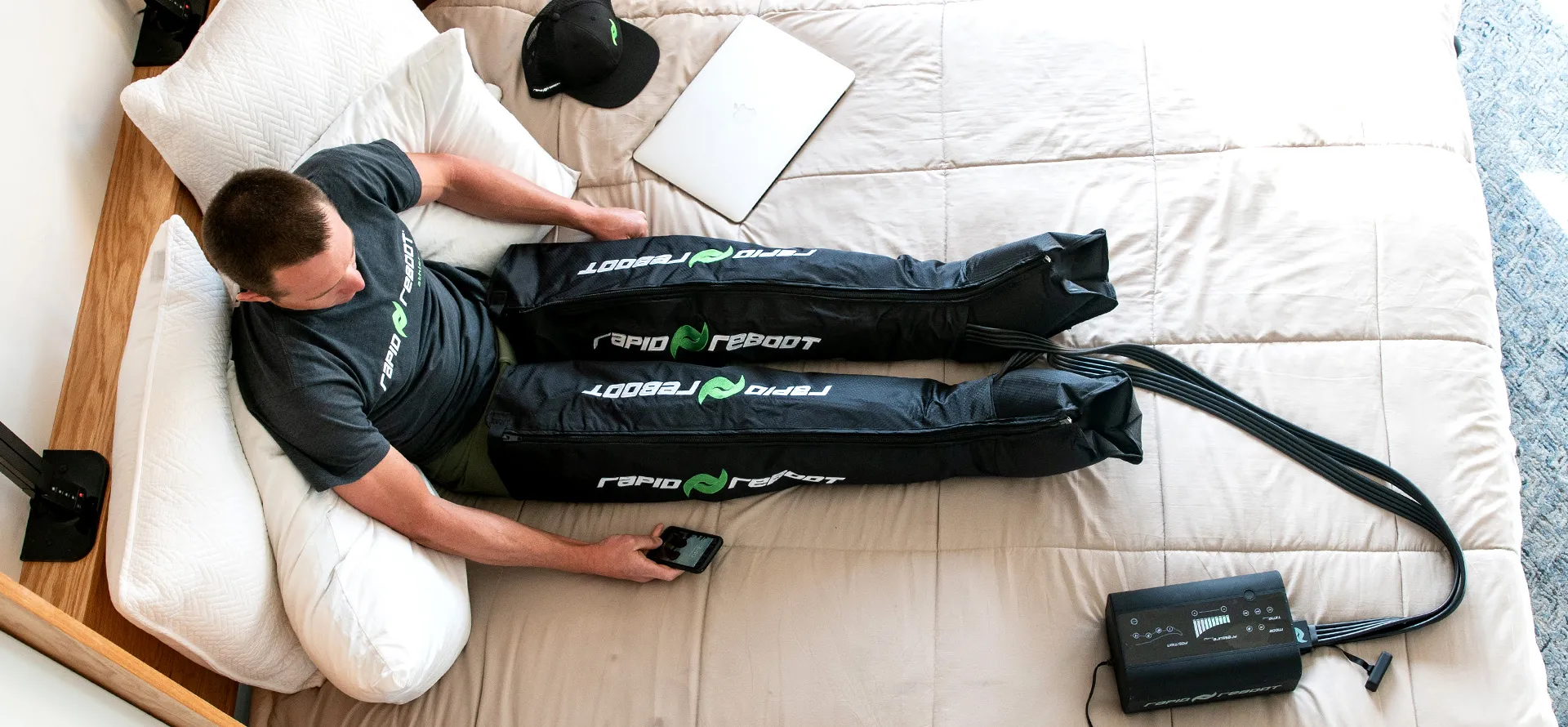 Designed for your body
CLASSIC compression systems mimic and aid the body's natural biomechanics to:
Improve

blood flow

Enhance

lymphatic function

Mitigate

muscle fatigue

Reduce

pain and soreness

Increase

flexibility and range of motion

Maximize

muscle performance
Easy At-Home On-Demand Massage.
The CLASSIC is the perfect way to kickstart your at-home recovery.
Customer Reviews
Based on 46 reviews
Had to have it!
My Chiropractor introduced me to compression therapy and after a couple of sessions I knew this was something I wanted to do but it was going to be spendy in his office. After some research I found Rapid Reboot, he was using a competing product. Ordered it because of the 30 day money back offer and I will be keeping it. I am an active person, playing competitive club tennis and officiating high school and college basketball. My legs take a beating, my shoulder hurts and I have a sciatica issue in my lower back. After just two weeks on using my Rapid Reboot I feel so much better and can tell that things are going in the right direction (except maybe the shoulder, that one is hard to treat and I just won't stop playing tennis).
Stefan
The Best Recovery Out There!
I recently got my Classic unit with legs, hips and arms attachments and I absolutely love it! I've tried other competitors' products that are similar, but nothing comes close to the quality and capability that Rapid Reboot provides. I use my setup nearly every day! You can't go wrong with Rapid Reboot!!
Braden Hunt
Exceptional Service
I mailed in my unit to have the electric cord repaired. I think I was storing the unit improperly. I was worried that I would be without Rapid Reboot for an extended period of time. I received the unit back 4 days later! Amazing! I have had a few other occasions where I needed help and everyone was always very helpful and friendly. My son plays College Basketball and uses Rapid Reboot every day. He uses it before and after games and practices. It has dramatically sped up recovery time for multiple injuries; I highly, highly recommend the Revamp ice sleeves. I lift weights 5 to 6 days per week and use Rapid Reboot every day. If your health is a priority to you, Rapid Reboot will be one of the best investments you ever make. We can't live without Rapid Reboot!
Derek
It just works.
It works as advertised and is worth every penny.
tyler
Bought arms attachment,for older unit
I purchased the arms attachment two weeks ago. I was aware Rapid had changed there head unit. I ordered the classic thinking it was compatible with mine. I received and email, stating all units work only with the current magnetic units. However, they told me they would send me a label to send my older unit and attachments to retrofit new plugs, no charge. It took 7 days from me shipping and getting back. Incredible, nobody does this. Bottom line Top notch company. Customer for life not to mention always quick to respond to emails. Huge thank you. Buy here. You wont be sorry. I've used the legs and hips for two years, no issues.
Darin
Love it
I'm loving the Rapid Reboot System.
Chris Herriford
A great product backed by great customer service
I have been using and loving the Classic Complete pack for just under two years when I ran into an issue with one of the attachment plugs breaking. Ten Minutes later I was chatting with a customer service representative named Kenady who was able to provide me with 3 reasonable options, ranging from a free replacement plug with instructions on how to fix myself up to a reworking option for a nominal fee in which I could send all of my attachments along with the control unit to be reworked and upgraded to the new magnetic port. I opted to go with the upgrade/rework option which took about a week from the time that I sent it out to the time I received it back. I couldn't be happier with the path I chose as the new magnetic ports are a significant improvement and I am confident that I won't have anymore breakage issues. Keep up the great work.
Ryan
Great product with great support.
I've been using my rapid reboot compression boots for three years now and anytime I've ever had an issue they volunteer to send me any parts I need and they show up fast. This company is the ultimate example of a great product with great support
Ray
Get it or Regret it
I have a outdated Classic unit that works great. Been using it for years after crazy workouts and it has been a lifesaver in recovering from sore muscles. My wife wanted a shorter boot attachment. Unfortunately they don't make them anymore with the old attachment. I chatted with Courtney who helped with the process of purchasing a new boot attachment and getting my old Classic unit with attachments updated for free. Turnaround from shipping out to receiving back was really fast!!! A few days!!! Overall the experience was Amazing from start to finish!!! If you don't already have one what are you waiting for? Go get one!!! Thanks again Rapid Reboot and Courtney for the Top notch service.
Kev
Love all the products!
We have all three units and love them all.
Jason Ackerman