CLASSIC Control Unit
$500
Launched in 2017, our CLASSIC unit is the workhorse of our product lineup. Durable and streamlined, the CLASSIC provides the recovery essentials at a lower price point, without sacrificing quality or performance. 
Features

Improve blood flow
Enhance lymphatic function
Mitigate muscle fatigue
Reduce pain and soreness
Increase flexibility and range of motion
Maximize muscle performance


10 Pressure Levels
A&B Modes
3 Time Settings
Position Isolation
Position Indicator
Quiet Session
At Home Compression Massager
Specs

CLASSIC Control Unit

Dimensions: 10 x 6.5 x 5 inches
Weight: 5.8 lbs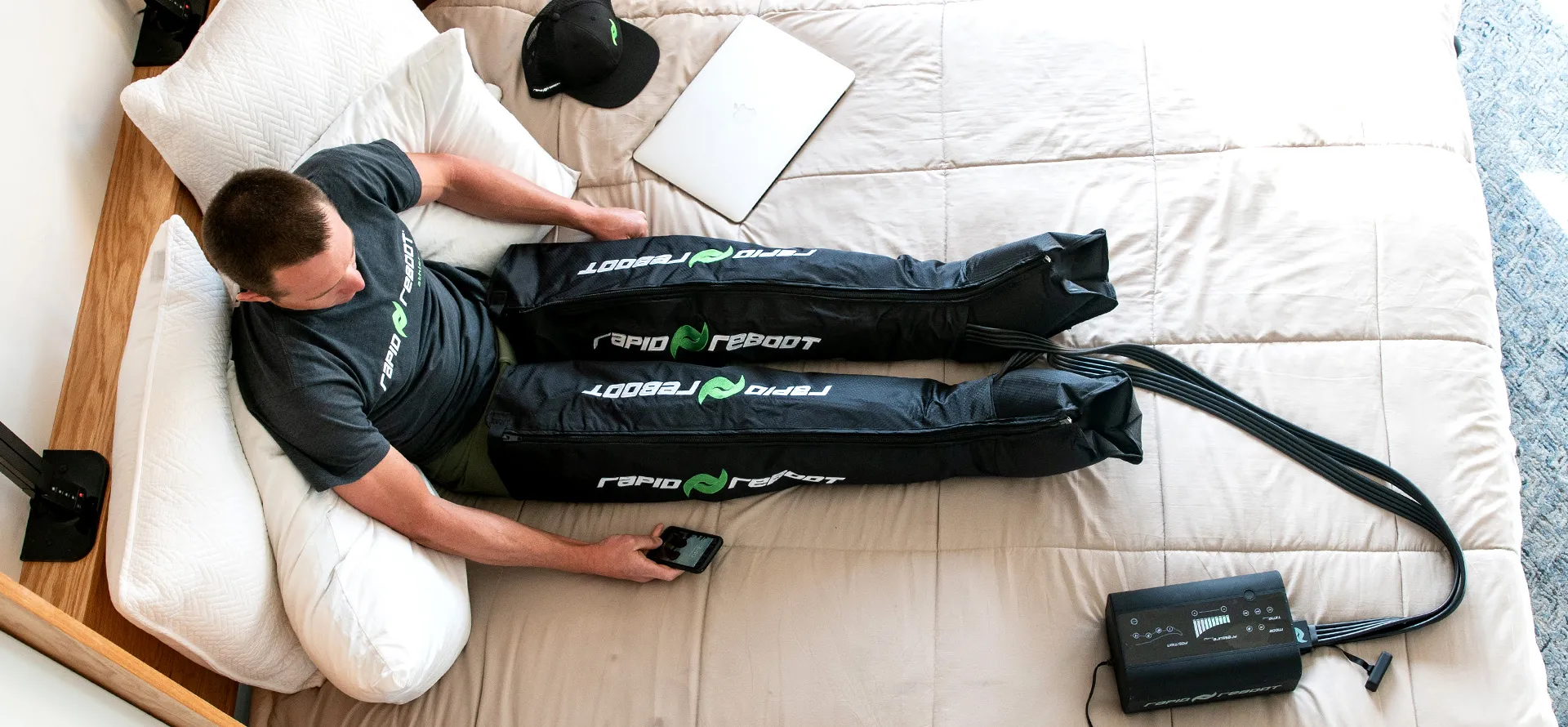 Designed for your body
CLASSIC compression systems mimic and aid the body's natural biomechanics to:
Improve

blood flow

Enhance

lymphatic function

Mitigate

muscle fatigue

Reduce

pain and soreness

Increase

flexibility and range of motion

Maximize

muscle performance
Easy At-Home On-Demand Massage.
The CLASSIC is the perfect way to kickstart your at-home recovery.
Customer Reviews
Based on 20 reviews
Compression Boots Worth the Wait
We had an issue receiving our product, right before Christmas. But Kendall kept us informed and continued to stay on top of communication as it was a shipping issue with UPS. When we received our product I cannot believe the difference between this and the competition that is out there. The RAPID REBOOT has a much tighter compression for smaller/leaner athletes and the recovery is INCREDIBLE. Noticed a difference after only 4 days of use. Our family of 4 runs over 150 miles a week and they are absolutely the best product on the market of its kind for quick recovery. Absolutely worth the wait and this company was awesome to do business with. Even with all our shipping challenges (it happens), we would buy again and again. THANK YOU!
Kristen
By far the best on the market
Feels amazing, really helping me flush my lymphatic system. My business partner has had issues with his nerves in his legs and his compression kit has also helped him with his issue. Worth the $.
Trevin
Had to have it!
My Chiropractor introduced me to compression therapy and after a couple of sessions I knew this was something I wanted to do but it was going to be spendy in his office. After some research I found Rapid Reboot, he was using a competing product. Ordered it because of the 30 day money back offer and I will be keeping it. I am an active person, playing competitive club tennis and officiating high school and college basketball. My legs take a beating, my shoulder hurts and I have a sciatica issue in my lower back. After just two weeks on using my Rapid Reboot I feel so much better and can tell that things are going in the right direction (except maybe the shoulder, that one is hard to treat and I just won't stop playing tennis).
Stefan
Excellent product!
I really recomend it! For any kind of activity (I play soccer and tennis) Really works great
Alberto
Knee replacement Waterman athlete
I am a 57 year old Waterman. Have been surfing, water skiing, windsurfing, kite boarding, kite foiling, wing foiling, surf foiling, stand up paddle foiling and surfing and stand up paddle long distance racing for 50 years. Bought Rapid Reboots to reduce swelling as a result of total knee replacement surgery. Really helping speed up recovery. Plan on using in the future to recover faster after surf and sailing sessions and generally increase blood flow to my legs, shoulders and hips. Aloha
Andy Purmort
Awesome compression boots!
I've been using these boots for about 3 months at my chiropractor and I could not stop thinking about them and how good my legs feel after a session. Now I have my own to use them as often as I'd like in between visits. Highly recommend!
Geri
CLASSIC Unit No Nonsense Perfection
A health spa I go to has Rapid Reboot. Previously I had only used Normatec compression boots. The rapid reboots are much better. More compression and feel better recovery afterwards. I ended up buying some for the house and have used them everyday. I am a cyclist and also work on my feet so my legs get tired so these things have been instrumental with recovery.
John
Great Product, Super Service
The Rapid Reboot recovery classic is a very well made product that offers services that many similar items simply don't offer. My first unit lasted over four years with a lot of use. It was no longer usable on user error, not the product. Rapid Reboot reached out, solved the issues by going way beyond what most companies would. I'm up and going again thanks to Rapid Reboot and I will be a customer probably forever.
Ted Carroll
I can't say enough about the customer service!
One of our arm attachments for the classic Rapid Reboot ended up breaking while my husband was using it. I sent a message to Customer Support and Kendall responded to help me. She sent me a UPS shipping label to send the broken arm attachment in to see if it could be repaired. Unfortunately, it couldn't be so I had to buy a new one that has the new connector style. Our Classic Rapid Reboot Control Unit was the old version with the long stems so the way all the attachments connect to the Control Unit now is different. Kendall said that Rapid Reboot could update my Control Unit and my remaining hip and leg attachments to the new shorter stem connector for free. Kendall again sent me another shipping label so I could send everything to get updated. Kendall kept me updated once my items arrived and let me know when everything was complete and everything got updated without a hitch. One of the best purchases we ever made was buying our Classic Rapid Reboot system. This company stands behind its products even when they are many years older. I appreciate the excellent customer service and the upgrade to our system at no extra cost to us. If you are on the fence about buying a recovery system, DO IT!! You won't regret it! I know I can't function after a hard CrossFit workout without my Rapid Reboot as part of my recovery.
Tammie Stansberry
The Best Recovery Out There!
I recently got my Classic unit with legs, hips and arms attachments and I absolutely love it! I've tried other competitors' products that are similar, but nothing comes close to the quality and capability that Rapid Reboot provides. I use my setup nearly every day! You can't go wrong with Rapid Reboot!!
Braden Hunt