CLASSIC Boots & Hips Package
$940 (Bundle saves $260)
Tailored to complement our CLASSIC unit, the Boots and Hips package offers the essential tools that accelerate your recovery, ensuring readiness for intense training sessions.
Features

10 Pressure Levels
A&B Modes
3 Time Settings
Position Isolation
Position Indicator
Quiet Session
At Home Compression Massager
Specs

CLASSIC Control Unit

Dimensions: 10 x 6.5 x 5 inches
Weight: 5.8 lbs

Boots Attachment

Weight: 4 – 5 lbs | 1.8 – 2.3 kgs (depending on size)

Hips Attachment

Weight:
Regular: 3.4 lbs | 1.5 kgs
Large: 3.6 lbs | 1.6 kgs

Fabric

Interior Fabric: 100% TPU-coated nylon, 70 denier smooth finish
Exterior Fabric: 100% nylon, 210 denier with ripstop weave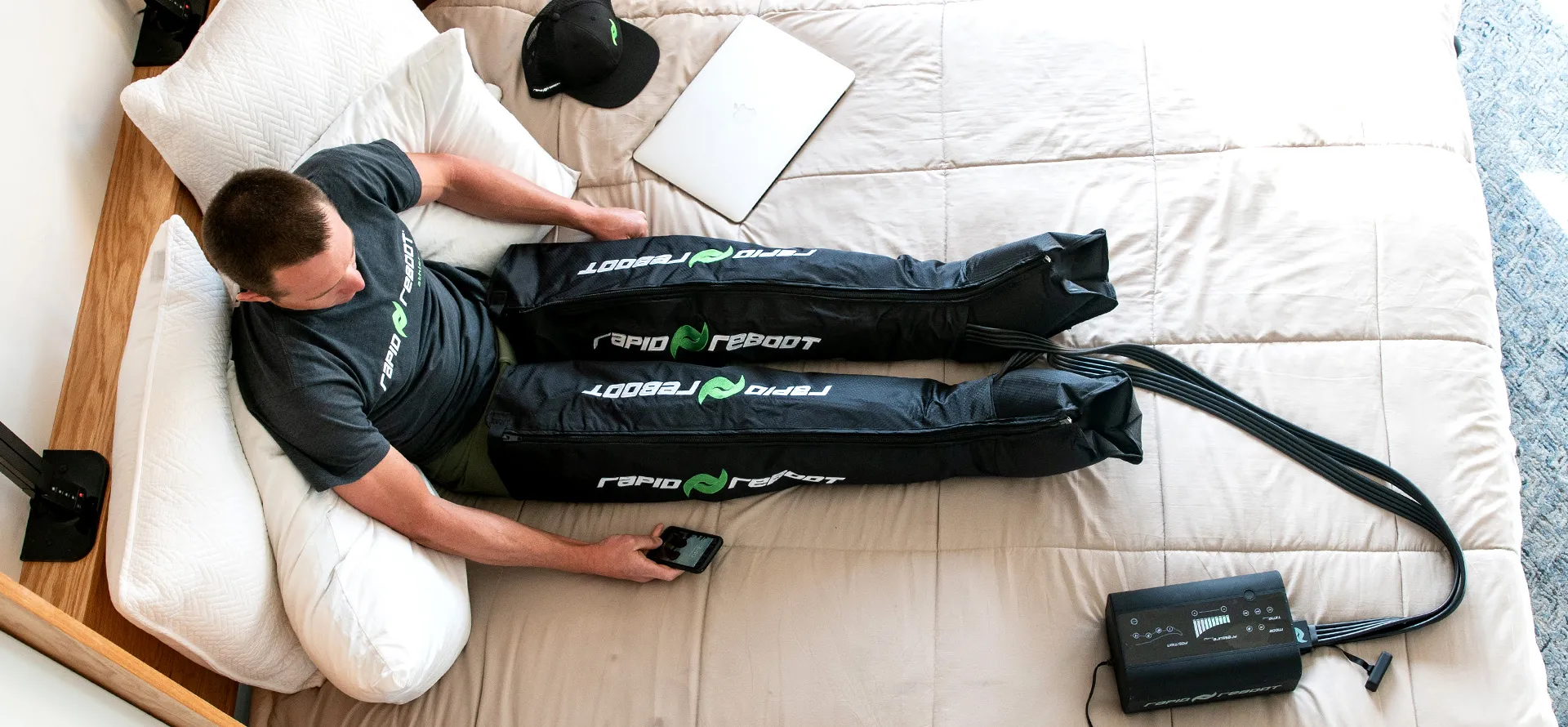 Designed for your body
CLASSIC compression systems mimic and aid the body's natural biomechanics to:
Improve

blood flow

Enhance

lymphatic function

Mitigate

muscle fatigue

Reduce

pain and soreness

Increase

flexibility and range of motion

Maximize

muscle performance
Easy At-Home On-Demand Massage.
The CLASSIC is the perfect way to kickstart your at-home recovery.
Customer Reviews
Based on 41 reviews
REGEN Super Upgrade from CLASSIC
I love Rapid Reboot CLASSIC, I use it everyday post ride (road cycling). I have the hip and leg attachments and spend from 60 to 90 minutes in Reboot recovery heaven. I just upgraded from the CLASSIC to the REGEN and I'm over the moon happy with the upgrade. The REGEN is very portable, love the BlueTooth connectivity so I can have the unit at my feet and alter the program from my phone on the fly. The REGEN allows for saving your favorite settings by attachment which is a great time saver once you get your favorite recovery programs dialed in. I cycle between 250Km to 350Km per week divided into 5 to 7 sessions, I wouldn't be able to go as long or frequently without Rapid Reboot.
David T
Customer Service
I had to call twice to get more detailed information and they couldn't have been any more kinder and helpful. All my questions were answered and each time the person was so positive and upbeat. Love the CLASSIC double pack and so glad I finally purchase it. I also can upgrade when available if I choose.
M Hutchinson
Customer Service
Accidentally ordered the wrong version of a hip attachments. Customer support was very quick to help me send my old control unit and leg sleeves to switch out for the new part. They made it so easy and simple. Best customer support I've ever had.
Zaccheus Darko-Kelly
Money well spent
Great product with great customer service. They respond quickly with any question you might have and the turn around for a product is optimal as in my situation, they (boots/hips) get daily use among many of my teams
Lock Schnelle
Fantastic recovery product
I tried the compression boots and the hip attachment. Loved them both and purchased them! The hip attachment is amazing for quads, glutes, and lower back. So glad I got it because those are my trouble spots! Great price because I purchased them at an expo!
Bill Schroeder
Love it
I'm loving the Rapid Reboot System.
Chris Herriford
Great product with great support.
I've been using my rapid reboot compression boots for three years now and anytime I've ever had an issue they volunteer to send me any parts I need and they show up fast. This company is the ultimate example of a great product with great support
Ray
Get it or Regret it
I have a outdated Classic unit that works great. Been using it for years after crazy workouts and it has been a lifesaver in recovering from sore muscles. My wife wanted a shorter boot attachment. Unfortunately they don't make them anymore with the old attachment. I chatted with Courtney who helped with the process of purchasing a new boot attachment and getting my old Classic unit with attachments updated for free. Turnaround from shipping out to receiving back was really fast!!! A few days!!! Overall the experience was Amazing from start to finish!!! If you don't already have one what are you waiting for? Go get one!!! Thanks again Rapid Reboot and Courtney for the Top notch service.
Kev
Pants Air Hose Repair.
Kenady, and her support team not only replaced the damaged air tubes to my pants but a new pair of pants. Amazing product and service, I've been a loyal fan of Rapid Reboot since 2018.
Corey
Love all the products!
We have all three units and love them all.
Jason Ackerman